Live Review: Gorillaz at Target Center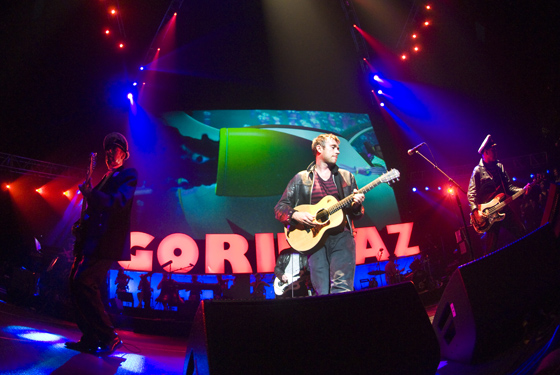 For someone like me who generally sees shows at smaller venues where you can get closer to the band, a stadium show is generally not even in the equation.  It takes a band like Gorillaz, who I have appreciated for a while and have never come here, to make me even remotely excited to go to a show in the echo cave of the Target Center.  For all of the possible things that could have made it go awry, Damon Albarn and crew put on a fun, lively show that was both visually and musically gratifying.
For the first time, this tour didn't find the group behind a screen being represented by cartoons, and they seemed comfortable coming out from behind the shadows.  It helps when your band is fronted by former Blur frontman Damon Albarn and features half of the Clash (Mick Jones and Paul Simonon), De la Soul and Bobby Womack.  The group, which also featured a Syrian orchestra, a string section and occasionally featured a horn group, sounded great as they played through the bands three song back catalog.  Highlights included "Stylo," "Tomorrow Comes Today," "DARE" and the encore standout "Feel Good INC." While some of the songs (namely "Clint Eastwood") missed their origional members, the group did a good job of filling the holes of the guest artists and making it feel like a complete show, even if a good chunk of the people from the albums were not there in person.
You can't talk about the show, even with as great as the music was, without mentioning the amazing cartoons playing behind the band throughout the show.  Having a giant screen with various videos accompanying the songs helped to alleviate the distance that is usually felt when you are far enough away that you can't focus in on the band members.  While it didn't win me over to stadium shows by any stretch of the imagination, Gorillaz did show that a strong, entertaining and fun stadium show is possible and make me hope that many peoples hunch that this will be their only time ever playing in Minneapolis is not true.
     -Josh
See Jon's whole photo set HERE