Simian Mobile Disco: Delicacies Review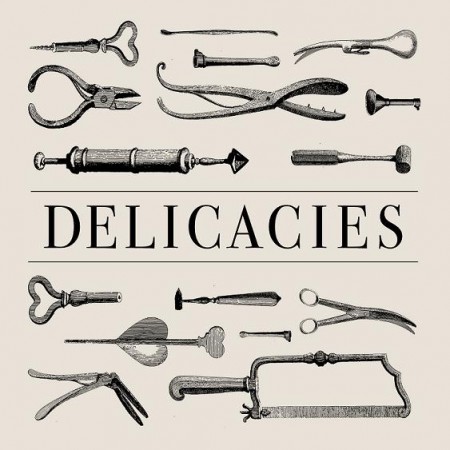 78/100
I am not especially into dance music – especially of the techno variety.  There is a reason, however, that I own pretty much every release by British DJ duo Simian Mobile Disco. And that's that it makes for really terrific running music.  The rhythmic, gritty, analogue recordings make the perfect accompaniment to hustling down the sidewalk with your headphones on – it's not so repetitive as to get boring quickly but it's also deeply grounded in fat, pulsing rhythms.   SMD's epic pounders are designed to keep raving party animals (of which I am not one) up all night on the dance floor so it is no surprise that it also works well for other exhaustion challenging activities. 
So when I received the new SMD record Delicacies (unmixed) my somewhat unorthodox method or trying it out relied heavily on putting it into my ipod and taking it for a jog.  And I am happy to report that, at least for my own tastes and purposes, Delicacies passes with flying colors.  It's a more techno-oriented offering than any of the duo's past works, but whereas I tend to quickly tire of most techno DJ's repetitive, uninspired beats; Delicacies packs in enough twists and turns to keep the tempo from getting stale.  "Nerve Salad" fills out its hauntingly menacing frigidity with cavernous reverb and stabbing hisses.  "Aspic" mixes up a rollercoaster of synth patterns over a pitter patter beat – it continuously drives itself to fervent new peaks before plunging back into the base rhythm.  And record closers "Sweetbread" and "Ortolan" both dabble in almost psychedelic drones.   And the rest of Delicacies (each track named for a world cuisine "delicacy") fills out pretty nicely with tracks, all eight minutes or longer, that chip away at techno's traditional boundaries. 
Still, as a non-clubber I don't have much use for SMD's music outside an accompaniment to the occasional run.  While Delicacies does present a fresh, bold take on techno music, it still lacks the subtlety and intricacy of an electronic record like say, Cosmogramma.  Delicacies will be a perfect album for what I can only imagine is a spectacular live DJ set by the band, or if you are like me, something for just getting the heart racing.   For average listening though (for which I doubt that this album is even intended) it likely won't hold a great deal of appeal.         
     — Jon Behm
Pre-order Delicacies today from Wichita Recordings or wait for it to come out on Nov. 30th
Simian Mobile Disco:          Site
.