Dirtbombs: Party Store Review (Four Takes)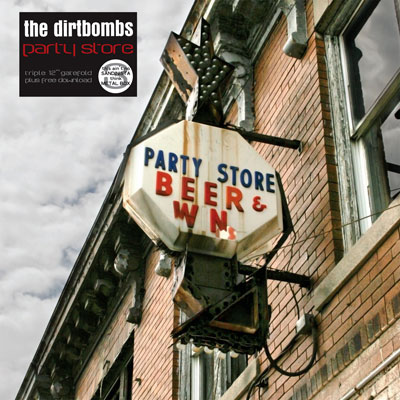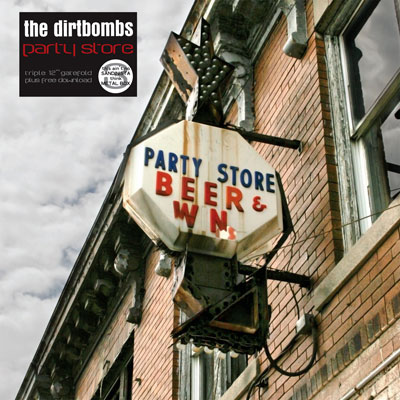 It can be difficult to gain a balanced perspective on an album after reading a single summary of the music. Bias can tilt a review, as can personal taste, history and just about everything else that is unique to the person writing it. So in an effort to offer an expanded perspective in such a medium, here are four reactions, four impressions, Four Takes on Party Time by The Dirtbombs.

Jon B (Reviler)
73/100
I gotta give the Dirtbombs credit for creativity. Their techno covering album Party Storenever really makes any expected turns or becomes formulaic. On one hand they sound like German electro-punks ("Sharivari") only minutes later to reform into Detroit techno fluent rockers ("Good Life") only to change again to pure garage punk ("Tear the Club Up"). The best of the mix is Cybotron cover "Cosmic Car," and the worst a twenty one minute plus rendition of "Bugs in the Bass," which is just plain exhausting to get through. If I was rating for the other seven tracks I would probably rate more highly, but due to something like a third of the album being skippable repetitive jamming, Party Store is hard to love as a whole.

Ali Elabbady (Background Noise Crew, Egypto Knuckles)
72/100
Hearing the Dirtbombs is always enjoyable, but on their most recently release, "Party Store," one is left with very mixed feelings on this garage rock outfit from the D. On the one hand you got you standard bangers which really bring out that Detroit Rock sound such as the drunken sing-along stylings of "Sharivari," the steady rhythms of "Alleys of Your Mind," and the almost psychedelic yet almost vocally subduded "Cosmic Cars." When these moments arrive, the Dirtbombs have never sounded more alive and carefree. But yet you hear stuff such as the remixed "Good Life (Basement Roots Mix) and "? ????-??? (Detoroito Mix)" which if it were a longer record with similar jams above, you could appreciate. Also there is an occasion which arrives in the form of "Tear The Club Up", which sounds like a half-assed try at a Three 6 Mafia half-assed try, which while combining the two might come off as somewhat alright, doesn't really fit on the record here. A Party is definitely is what this record is for, but not the greatest store for a revisit.

Jon Jon Scott (Sound Verite)
65/100
Detroit's wild psycho-blues romp action of the Dirtbombs led by the anti-hero Mick Collins and backed with two drummers and two basses have along history. Their unique version of scuzz-rock blues sounds nothing as refined as the White Stripes, yet seems to embody the spirit of youthful basement punk rock.
The Dirtbombs are a legendary garage-rock band that enjoyed perhaps their most success with their funk/soul covers record Ultraglide In Black a decade ago. Now Mr. Collins wishes to blend his love of Detroit techno history into his own garage-rock circus with covers of classic Detroit dance music.
Buried in distorted guitars and monotone vocals, "Cosmic Cars" by Cybotron sounds like the soundtrack to a b-horror movie delivered as muscle rock. The spooky "Sharivari" is Collins getting his Germany on. They take on the faux-disco thump of Inner City's "Good Life (Basement Roots Mix)" with a daring version, making it almost interesting. Italian-trash nugget by A Number Of Name's "Strings of Life" has an urgency with nowhere to go. There's some punch in "Alleys of Your Mind" but not enough to knock you out. Carl Craigs Innerzone Orchestra's "Bug In the Bass Bin" turns into a 22 schizophrenic minute workout, followed by "Jaguar," another instrumental. Collins and company's version of DJ Assault's booty shaker "Tear the Club Up" with its cheerful chant of "Tear the Club Up" shows the possibility of actually having some fun, but that's even cut short at a minute and a a half.
This doesn't have the coolness of the Black Keys, but still its honesty is attractive. If only there were songs that require playback. Garage rock is ragged, fast, loud and fun, the Party Store doesn't bring any of the bang. If you were ever curious about this band being an authentic Detroit punk-rock/blues swamp boogie band check out their classic Ultraglide In Black, and stay away from the Party Store.
Josh (Reviler)
I can almost picture the conversation. A wobbly table filled up with empty beer bottles in a grimy Detroit dive bar, encircled by the dudes from the great Detroit garage rock band the Dirtbombs. "Remember Ultraglide in Black, our record covering classic Detroit soul and R & B that showed our love for our home city and the great music it has created? That was awesome. Let's do it again, but this time let's take a stab at our cities legendary house and techno scenes." I am sure, at the time, it seemed like a good idea to cover the likes of Cybotron, Pebbles and Carl Craig. Unfortunately the best intentions don't always result in the best results. The nine songs on Party Time find occasional moments of ecstasy, but mostly feel forced and lackluster, which is unfortunate as Mick Collins and the gang usually are well equipped to whip up a party. While most of these songs are classics that lit up dance floors in the 80's and I am sure the usually great Dirtbombs had good intentions, this record really doesn't live up to its title.