Alela Diane: Alela Diane And Wild Divine Review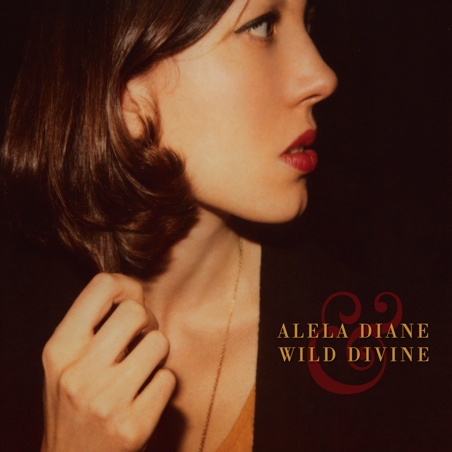 73/100
Over the course of her last couple solo albums as well as a handful of collaborations (notably 2009's co-record with Allina Hardin) Portland transplant Alela Diane has established herself as one of the forerunners of the new folk movement.  Calling it "new" though is a bit of a misnomer though.  The folk music that Diane plies her trade in (as well as her contemporaries Mountain Man, Mariee Sioux, and others) is one very much rooted in the past.  Its full of stripped down melodies, Appalachian strings, and old timey sensibilities.  And Diane seems to be its poplin-dress queen.  However having only worn the crown for a short amount of time, with her new material Diane seems ready to move on.  Her brand new album Alela & Wild Divine takes a far different approach to folk music than she is accustomed.
Well, ok it's not that different.   On her new record Diane still touches on the rootsy, wandering themes that have come to define her sound.  In this case though she does it with the backing of a full band, Wild Divine, which consists of her father on lead guitar, husband Tom Bevitori on guitar (with whom she co-wrote some of the songs), and Jonas Haskins and Jason Merculief on bass and drums respectively.  The resulting sound is a far more richly textured and warm than Diane's earliest efforts, expanding further on 2009's forays into a larger musical palette in To Be Still.
Like her most recent work has hinted at, Diane is ready for a fully fleshed out sound.  And she has found the perfect enabler in Scott Litt (REM, Patti Smith) whose production on the record is downright flawless, lending exquisite polish to every tune.  Even the songs addressing unpleasant topics sound lush and buoyant, such as in organ driven "Heartless Highway," which manages to make the cruel highway actually sound inviting.  Though the majority of the new songs were written on and inspired by the road, Diane has never sounded less lonely or troubled.  You can hardly blame her for sounding happy though. She's newly married, she's got her family in the studio, and she's got some strong new material on the way.  Things are going well for her and it shows.
And Diane's enthusiasm sits well on top of upbeat instrumentation that at times strays into rock and country territory.  Elegant classical guitar picking, twangy strumming, even the odd accordion all weave their way into the sonic narratives, while Diane's sublime vocals maintain their role as each tune's focus.   It's almost too perfect sounding at times.  Such lovely warmth and beauty can be marvelous to behold, but as far as artistic progression is concerned it doesn't always make for the most interesting listen.  One almost wishes for a seam in the fabric, a tear that shows the more human element of songcraft.  Alela & The Wild Divine shows no such blemishes on its perfectly smooth skin.  Still, in the end everyone likes a beautiful song, and those the record has in spades.
— Jon Behm
Alela Diane – To Begin (email required)
Alela Diane & Wild Divine will be available on 4/5 on Rough Trade
Alela Diane:          Site
.