Hildur Victoria: Hildur Victoria Review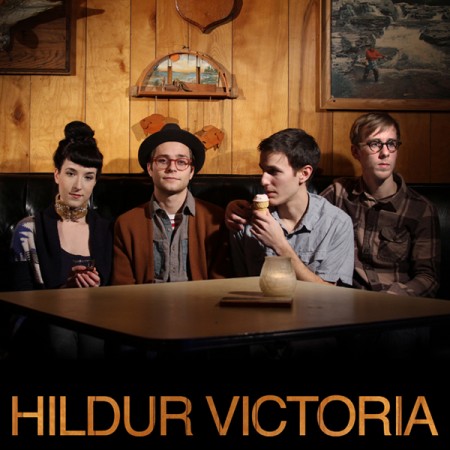 76/100
When local quartet Hildur Victoria's debut EP came out last year I noted that I felt the band could become successful if they didn't "make an attempt to become more radio friendly" at the expense of their sound.  And now that the band's full length self titled LP has been recorded, it seems that Hildur has thankfully continued to manage walking the fine line without falling off the deep end into pure pop territory.  While Hildur Victoria is marked by a moody, indie pop sound, it is also notable for its solid, non-formulaic musicianship.
For starters drummer Jeremy Hansen's (Tapes N' Tapes) rhythms are both complex as well as expertly executed, whether he's punctuating the softer moments with jazzy pitter patter or crashing out rushing crescendos at a song's climax.  Guitarist Joe Clark also flexes his skills with a bit less reserve than on the band's earlier EP – tunes like "Space Blanket" and "This Too Shall Pass" are underscored by swaths of Clark's distortion-laden playing that balances out the melodies with elements of discord.  Bassist Jef Sundquist's throbbing strings are also a key factor– especially in "This Too Shall Pass" when they make up a key part of the rhythm. 
Last but not least, singer Margaret Lane's smoky vocals center each tune around her emotion-laden, post punk vibe.  Lane is a talented vocalist and her vocal styling's are assisted by production that pushes them to the forefront of the sound.  While throughout the LP Lane sounds solid – when she sounds best is when she allows herself to stretch beyond her comfort levels.  "Ghost" is a prominent example by reason of the song's ending when Lane allows herself a rare freak out, squealing like a banshee at the climax.  "So It Goes" is notable as well – not only for its sonorous Michael Lewis assisted sax line and low-fi sound (which set it apart from the rest of the album's vibe) but also for the emotional weight that Lane allows to creep into her cryptic lyrics.
On their debut LP, Lane and company generally work together quite well to produce a number of well constructed songs.  They do in fact take a pop-oriented approach to their melodies, but close listening reveals that there is far more below the surface than simple hooks.  Find out for yourself at the band's album release party, which will take place this Saturday, April 2nd at the Loring Theater.  Tickets here.        
     — Jon Behm
Hildur Victoria – "Space Blanket"
Hildur Victoria:          Site
.