Jim & The French Vanilla: II Review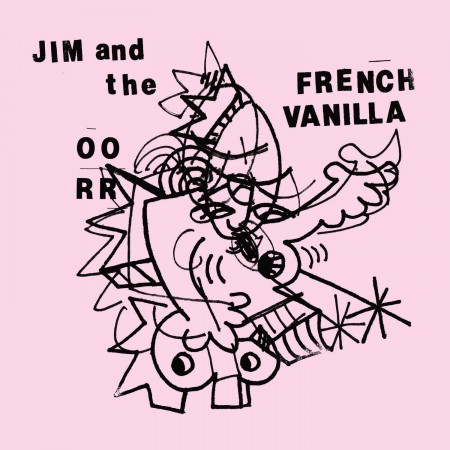 The Blind Shake doesn't keep their love for Michael Yonkers a secret. I couldn't blame you, though, if you have a hard time connecting the dots between the psychedelic legend's lowfi garage-folk strangeness and the punk trio's hard-charging sonic assault.   Microminiature Love isn't as difficult to wrap your head around, but once you get into Michael and the Mumbles or Goodbye Sunball, the similarities get harder to pinpoint.
Enter Jim and the French Vanilla. JatFV is the solo project of Jim Blaha, one of the Blind Shake's fraternally linked guitarists. Blaha's solo material is mix of low-fi garage and acid folk—not unlike the side of Yonkers that you used to hear back in the sixties.  Now, I would never say that Jim and the French Vanilla and early Yonkers are two peas in the same pod, but understanding their stylistic similarities is a good place to start.
Jim and the French Vanilla's sophomore album, simply entitled II, explores a wide variety of styles—from country to psychedelic rock. The string that binds them is that nearly all 14 tracks feature Blaha solo, playing guitar and singing in a highly reverbed environment. Occasionally the tunes feature Blaha recording on multiple tracks and  filling out the sound, but with the exception one Blind Shake acoustic joint and Jim's brother Mike joining him a few times on drums, it's purely solo Blaha.
Thematically, II is melancholy, with Blaha providing his own overarching concept in the lyrics to "Misery": "It's misery, played by me." A handful of the songs, like "Unlucky" and "Deep Water," display a folk-country tinge. However, even at his rootsiest, Blaha keeps the psychedelic flame alive. The distorted vocals are notable, as is Blaha's skill on the guitar. II's most intrepid journey into acid folk is probably "Long Ways From Here," which features an Eastern-oriented (dual) guitar part that sounds a bit like some of Sandy Bull's farther-out material. The shadow of the Blind Shake isn't too far off either—"The Big Day" actually sounds like it could have been lifted from the Blind Shake catalogue, none the wiser.
If you are accustomed to the Blind Shake's sound, you might not have an easy of a time with Jim and the French Vanilla. While the similarities are there, II's slower pace may not be ideal for fans of brain-melting garage punk. If you don't mind slowing it down a bit, II has a lot to offer attentive listeners.  Not only does it sport a bevy of good jams (my favorites in addition to those already mentioned being "Too Bad" and "Unusual"), it's also an interesting trek into the Blind Shake's span of influences.  But of course this is a JatFV record—not a Blind Shake record—and it should be listened to on its own merit.  At the same time, if you ever wondered what the Blind Shake did with all those unused acid folk influences, Jim and the French Vanilla may satisfy some of your curiosity.
II will be available via Modern Radio on March 1st.  Jim and the French Vanilla's record release show is on the same day at the Kitty Cat Klub.
—Jon Behm