Spoek Mathambo: "Father Creeper" Review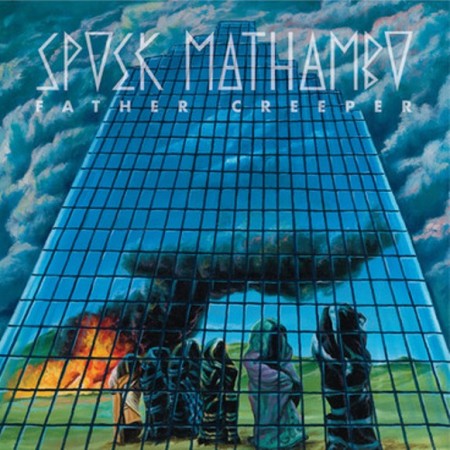 Johannesburg "Afro Futurist" Spoek Mathambo (real name Nthato Mokgata) takes an acquired taste. While the rapper and DJ crafts some great (albeit strange) beats, he often accompanies them with his own vocals, which, whether spoken or rapped, are often off key and relatively tuneless. I had to spend a couple weeks with Mathambo's sophomore release, Father Creeper, before I started feeling it—getting past the off-putting sound and learning to vibe with it. It turns out it's quite a rewarding listen.
In the end, Mathambo's unpleasant vocal delivery even seems fitting, given the subject matter: child soldiers, warlords, and blood diamonds. Mathambo brings out the truly ugly side of African history in his eerie dance-jams. The off key vocals reflect an off key world. While there may be an African guitar accompaniment (courtesy of Nicolaas Van Reenen), it's not your garden variety Vampire-Weekend-happy Africa-Stratocaster-splash. Via guitar, beats, piano, and synths, Mathambo creates a disquietingly bizarre ambiance, one that's all the more frightening considering the rapper generally sounds like he's having a lot of fun in his dark little world.
Father Creeper is loaded with strange electro-rap constructions like "Venison Fingers' and "Put Some Red On It," two standouts that showcase Mathambo's knack for delivering nightmares over a catchy beat. It's easy to imagine that if Afrika Bambataa had grown up in a South African slum rather than South Bronx, he and Mathambo might have been in good company. Despite the frenzied first half of Father Creeper, the end backs off for a few slower paced tunes. "Stuck Together" sounds influenced by a '90s "alternative rock" sound, a bit of a departure from the rest of the album. The closers, "Grave (Intro)" and "Grave," leave the formula as well. The first is a piano-inflected ambient drone that segues into the latter's melancholy dream-pop finish.
It's a fitting end to a record that doesn't really do anything in a conventional manner.  From start to finish, Spoek Mathambo's Father Creeper is a peculiar and incomparable listen.
Father Creeper
is available today via Sub Pop Records
—Jon Behm