Review of new LP 9th House from local hip hop heavyweights I Self Devine & Muja Messiah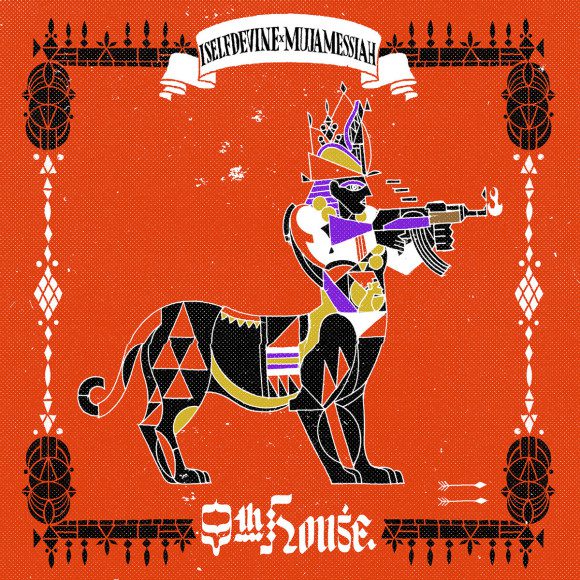 Many know I Self Devine from his stellar projects under the Rhymesayers umbrella, most notably his recent project "The Sounds of Low Class Amerika" was an album that pinned down the frustration, woes, and rage from a subsection of America losing its voice among the batshit crazy of the far right and the affluent yet apathetic liberal left getting lost among the echo chamber. Muja has been grinding equally as hard, his last project "God Kissed It, The Devil Missed It" was a soulful and gripping tour-de-force project exploring similar topics with a hazy and interesting gusto. For those keeping score at home, the two rappers have collaborated previously on the song "Patriot Act" on Muja's "Thee Adventures of a B-Boy/D-Boy," so when word was brewing about "9th House," the duo's first full length together, all ears were piqued as to what to expect.
As far as what "9th House" is as a project between two lyrical powerhouses in their own right, and it plays as a woozy, hazy, and eerie project, one that is politically loaded with double entendre and vivid depiction, especially on tracks like "Arrow Dynamics," and the skeletal, yet soulful lead-off "9th House." Meanwhile, the stream of consciousness feel of "Midnight on Jupiter" has a neck-snapping groove that has both Muja and I Self trading verses effervescently, while Lady Midnight of VANDAAM fame keeps it all calm and breezy.
Production-wise, folks like J-Hard, M¥K, and Orko Eloheim leave a lot of the soundscapes of this project with enough breathing room for I Self and Muja to trade bars easily while keeping their deliveries not so much about energy, but more to do with how they deliver imagery and do so in a way that listeners are able to peel back the layers of meaning with relative ease and wonder. The 808 kicks, snares, and claps roar and rumble, but never overpower the two artists at the forefront, which allows for maximum transparency of their message. Leave both Muja and I Self to put out a project to speak to the days and times we're in, and to keep the music as equally engaging as the message itself.
Welcome to the land of the headless horseman, where police will kill a man while he protest abortion… –Muja Messiah "Palm Trees & Zombies"
— Ali, @egyptoknuckles
I Self Devine and Muja Messiah's 9th House is out now. On Wednesday, December 9th, both artists, along with the 9th House Ensemble will be having a release party at Icehouse. Bayb Shel will be opening the show, and DJ Keezy and Just Nine will be spinning jams throughout the evening. All of this will be hosted by Mica Mary Grimm. Doors are at 9:30pm, show starts at 10pm, and the cost of entry will be $9. This is a 21+ event.