Leisure Birds: Copper Scroll Review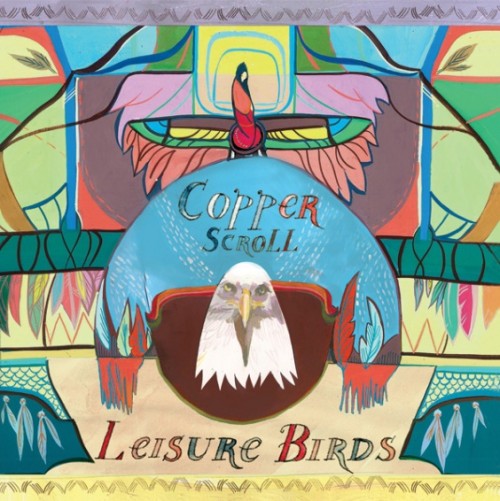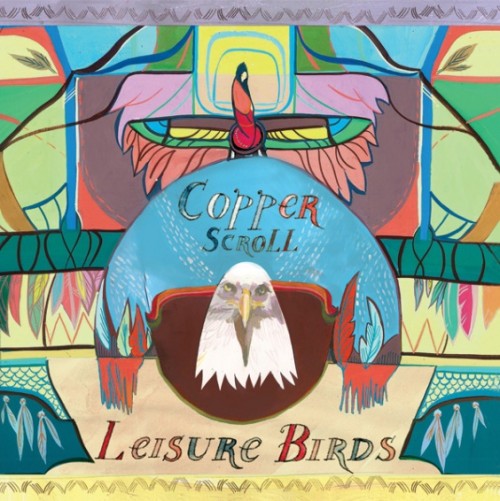 86/100
Leisure Birds are one of those bands that always are on the great local bills, holding their own, but until now it has been hard to fully appreciate them without having much as far as recorded output.  This is changing with the release of their excellent new LP Copper Scroll, out shortly on the local label Totally Gross National Product. 
The group, who focus on psyched out, dreamy garage punk, really capture their exciting sound on the record.  Backed by galloping drums and lots of percussion (mainly tambourines and maracas), the instruments and vocals on Copper Scroll are absolutely saturated in effects.  Despite being drowned in reverb and echo, Copper Scroll still lets strong melodies shine through and shows a band with a knack for a groove but also a ear for strong melodies.  The title track is a buzzing, snake charmer of a song that unwinds over lucid guitar and ramshackle drums.  There are a few songs, namely "Polynesian Triangle" "Down the Drain" and "Tetregrammaton," that betray the bands barnstorming live sound that local fans have come to know.  The trio of songs sound like someone dropped Ambien into the bands whiskey, but even at their half speed are great songs.  Including album opener "Mobile Way" and the previously mentioned "Copper Scroll," the album mainly keeps the pedal to the floor and is a great collection of garage rock stompers.   The highlight of the album might be the  burst of high octane songs in the middle of the album, with the great run of "Ruby Soul," "Demon Haze," and the strutting "Say So," which find the band really hitting their stride. 
The band, whose psychedelica is more 13th Floor Elevators than Syd Barret, sound a little like they were dropped into our scene from the some late 60's garage rock heaven.  The songs on Copper Scroll are confident and well put together, with a layer of haze making sure things don't get too normal.  With a group like Leisure Birds, who play in other established bands and have taken their time getting a full length together, it would be easy to create an ultimately underwhelming debut LP.  Luckily this isn't the case with Copper Scroll. Now when you see the band as part of a great local bill (like this Saturday for their pre-album celebration), you can have proof the next morning that your hazy memories were correct and this is a really great new band in a city that seems to be teeming with great local bands right now.
     -Josh
Leisure Birds celebrate the pre-release of the record (only the download code…the record isn't quite ready) Saturday night with Vampire Hands, Daughters of the Sun and Marijuana Death Squads at the Turf Club.